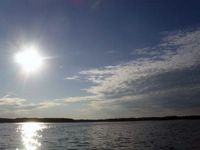 There's nothing like a sunny weekend in the country, to recharge me in preparation for another lifeless week in the city. It's not that I have "nothing" to do in Toronto; It's just that most of my time here is spent doing things that I wish I didn't have to do (
... working, paying bills, melting in the horrific humidity... and so on
). The only respite from my dull existence is the "free flicks" at the Harbourfront, and my weekend trips to my friend's cottage.
Free Flicks happens every Wednesday at the open air theatre down by the Toronto waterfront. Last week I went down there to watch JAWS. Now... I've seen this movie many times before, but seeing it on the BIG screen was AMAZING! Being by the water, and having so many people around, made it
scary as hell!
I don't get scared easily, but there I was yelping away, despite my attempts to play it cool.
As for the weekend trips to the cottage; I couldn't ask for anything more. I sleep, I eat, I drink, I swim, I drink some more, I look at horses, I jam on the guitar**, I drink some more, and then I sleep some more. There's really very little better than that.
Below, are pics of the horses at a neighboring farm. I think they look like 80's Rockstars, so the inner blogster in me was forced to take pictures:
rockstars

hair shot

But now, I'm back in the city, resigned to my fate: WORK, or be poor FOREVER!!
**ok
the boys jam and the girls sing. I only know how to play 7 chords on the guitar, so I can only play a few songs well.